An initiation to the Producciones Doradas sect
Centella is the band in which Padi Fuster (ex Sybil Vane) cleanses her daily frenzy, supported by the drummer from Daniel Descabello. Padi, moved in her tender childhood by Marisol´s records, writes songs using "triririri and that´s it", as the artist herself told us.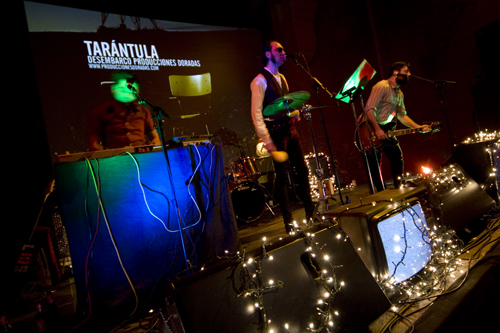 Tu Madre are not quite the finished article yet, as Centella sings in one of their songs, but when they loosen up and grab one of their hits by the bollocks, it´s easy to surrender to them. Still unexperienced on and off stage, they´re looking for an identity that works best in Jongla´s songs – the three girls who make up the band sing and write their own songs.
But Tarántula, ladies and gentleman, oh Tarántula! They´re something special. "We are lazy bastards," says Vicent Leone when I ask him why Joe Crepúsculo (keyboard player in the group and with a great solo career) is more famous than Tarántula, a band halfway between darkness and pasodoble with two fantastic albums, both available as free downloads as everything else on Producciones Doradas. Frontman Leone is a Spanish gentleman, as described in the song Comando Suzie dedicated to him, with a presence as strong as his sideburns. With the lyrics on a stand – he doesn´t know them – he sang old and new songs, flanked by Joe Crepúsculo and Daniel Descabello and with the digital spirit of N-Ko right behind him.
The night ended with the best party at ZEMOS98, spontaneously started by the audience. It included sevillanas, ballroom dancing, breakdance, rock´n´roll pirouettes, tight dancing and circles around the couple in love made up by Jongla from Tu Madre and Adrián de Alfonso from the brilliant Veracruz.